First United Methodist Church ENews
Sunday, November 24
8:00am Worship in the Chapel
8:45am Christian Formation
10:00am Worship in the Sanctuary
Dear Friend,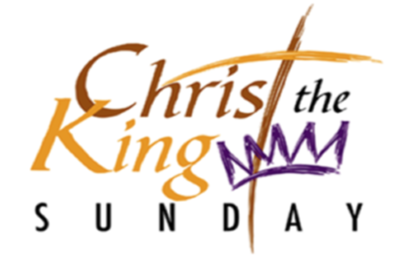 Thanksgiving and Reign of Christ Sunday bring our season after Pentecost to a close. Christ is victorious at the cross, defeating death, and calls us into a deeper way of life. With gratitude, we remember all that God has given us, and through Christ we have inherited the kingdom of heaven. We prepare to turn to Advent, beginning the liturgical cycle again, as we watch and wait for signs of Christ's return in our world and in our lives in a new way.
A prophecy of judgement on the unrighteous rulers of God's people, and a promise of a new, righteous leader from David's line.
Colossians 1:11-20
In Christ, who is supreme over all, and the visible image of God, we have been transferred from the realm of darkness into the realm of God's reign.
While dying on the cross, Jesus assures the penitent thief that he will be with him in paradise that day.
Prayer
God of Abundant Love, You made a world full of beauty and bounty. In this season of Thanksgiving, may our gratitude to You flourish in our acts of kindness to one another, and in our care of the earth. May we live and work with sustainability in mind and stewardship in our hearts. May our way of life conform to Your intention for us, to care for the earth and its creatures, to love our neighbors and meet their needs, to build the beloved community here on earth as it is in heaven. May we care for this planet, for it is the only one You made just for us, and in gratitude may we take care of it for the generations that will come after us. In the name of the Creator, Redeemer, and Sustainer, we pray. Amen.
Music: Chancel Choir & Fusion
Ushers:  Steven Flint, Pat Price, Al Reiman, 
Mike Thorpe, Jeff Kaiser
Coffee And…:  
Thursday November 21
6:30pm Aldersgate Ringers
7:15pm Chancel Choir
8:30pm Fusion
Sunday, November 24
4:00pm Interfaith Thanksgiving Service
Please note that the Church Office will only be open on Tuesday during Thanksgiving week. Also, Pastor will be taking some vacation time and not be available during that week.
Monday, November 25
7:00pm Women's Book Group
Tuesday, November 26
7:00pm La Leche League
Wednesday, November 27
Church Office Closed
Thursday November 28
Happy Thanksgiving!
On Sunday, December 1st join the United Methodist Women as we 
usher in the Advent season. 
Immediately following the 10:00 am service Fusion
 will present a program of Christmas favorites.  When we are feeling completely entertained we will adjourn to the parlor and chapel for our annual potluck.  The United Methodist Women will provide the beverage, and dessert.  We ask that you would bring a dish to share.  I am sure the joy of the day will fill you with the warmth of the season!
2019 Financial Update
Sometimes we get behind with our church giving because we're away on Sundays, or we're just didn't get the check written or the online giving done.  FUMC is nearing the end of its fiscal year.
As of October 31, this year's expenses have exceeded revenue by $27,612.72.  That's a sizeable deficit.  So…if you're behind with your planned giving, or if you'd like to make an additional gift, now would be a perfect time to get up to date or make that gift!